Fort Lauderdale's
Metal Tile Roof - Best Roofing Contractors
Metal roofing has replaced all types of roofing materials effortlessly. Their presence can be seen in residential and commercial roofs and walls. If you are planning to construct your new roof or change your existing roof, you should definitely consider choosing a metal tile roof.
People who have installed metal tile roof are very happy with the results. The demand for a metal tile roof is ever increasing with time because of the benefits it comes along. If you are seeking for metal roof contractors who can inspect your roof and then give you the best option, you can opt for USA Metal Roof Contractor of Fort Lauderdale in the city of Fort Lauderdale, Florida.
We provide metal roof installation and related services for over a decade. So, we're someone you can trust.
What is a metal tile roof?
A metal tile roof is built with the help of specific metals and tiles. Metal tile roof is designed as a much better alternative to old traditional style Mediterranean clay and concrete tiles, asphalt shingles, etc.
The tile component in it is made out of roll-formed and stamped 26-gauge high-grade galvalume steel or 0.032'' aluminum coated with a protective layer of pretreatment. Then it is primed and coated with Kynar 500 topcoats. Kynar 500 is the most durable and preferred topcoat in the roofing industry. 
A minimum requirement of the slope is 3:12 for stable metal tile roof installation. The number of panels on any roof can be minimized by running single panels all the way from the ridge of the roof down the eaves. This will assist in reducing the no. of overlapping seams.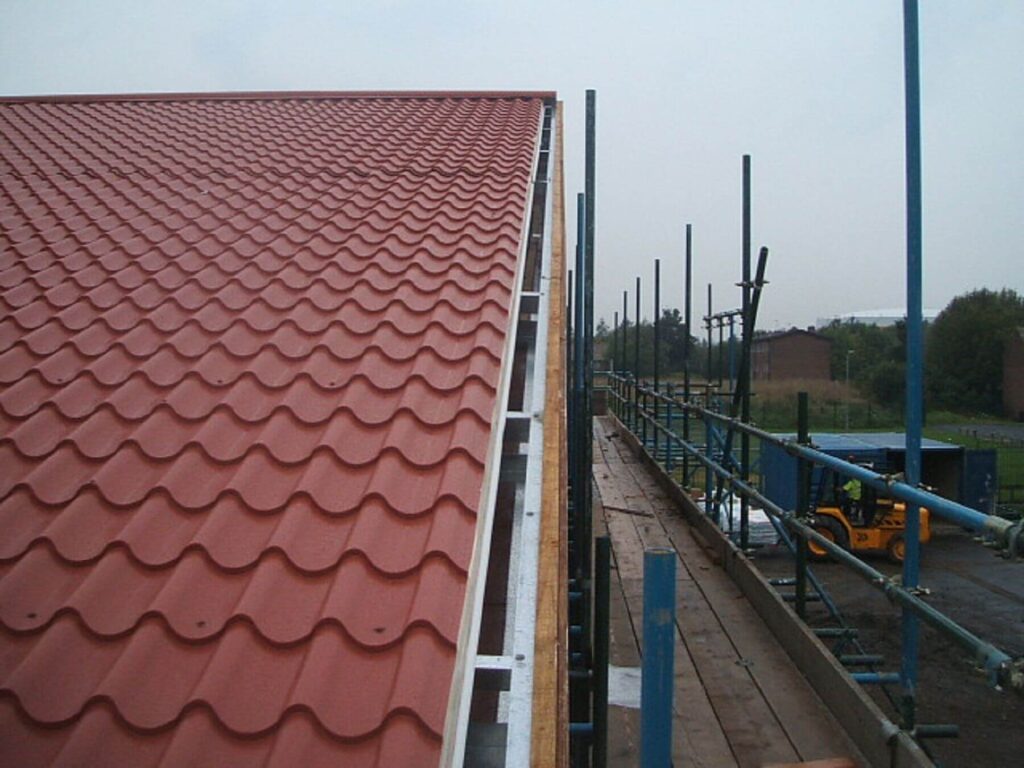 What are the different types of metal tile roofs that are used in the market?
What are the benefits of metal tile roofs?
Longevity and economics – a metal tile roof will last much longer than an asphalt roof or clay roof. Though they can be expensive during installation, they prove beneficial and economical later on. In the long run, you'll be saving decent money.
Weathering performance – metal is the strongest and most durable material to be used for roofing purposes. Metal tile roofs are sturdy and strong. They will protect your building from hails, hurricanes, winds, ice, and extreme cold and heat. 
Environment-friendly – the metal tile roofs made of zinc and aluminum are 100% recyclable. The benefit of the environment as waste production decreases tremendously.
At USA Metal Roof Contractor of Fort Lauderdale, you will get a huge variety and designs in a metal tile roof. These roofs will beautify your house in a way you have not imagined. The curb appeal and the resale value of your place are surely going to increase.
Why is the USA Metal Roof Contractor of Fort Lauderdale the best choice for metal roof installation?
Here, we provide all kinds of metal roof installation, repair, or replacement services at cost-effective prices. We have a customer-centric approach, and all our planning and methodologies are based on that approach. It's the reason we're able to deliver the best results.
We have been working in this field for over a decade, and our roofers are well versed and professional in their work. A huge number of services are available for you to choose from. Our representatives can meet you and inspect your roof. This will give you the idea about your roof and help you decide the best possible way for your roof betterment.
So, call us right now and get your booking done with us!
Time to Replace Your Roof? We Can Help
---
Considering roofing replacement? When it comes to roofing projects, many homeowners rely on professionals to get the job done. At USA Metal Roof Contractors of Fort Lauderdale, our specialists stick to all the industry standards when installing metal roofing on both residential and commercial properties. Therefore, you can be sure of getting a sturdy roof on top of your house. As a result, you can get the best services from our company in the following fields;
What Locations do we Serve?
---
USA Metal Roof Contractors of Fort Lauderdale is a name you can trust and rely on. Our metal roofing services were limited in Fort Lauderdale, FL when we started. But with time our company has expanded and is now serving over ten locations within Florida.
It shows how reliable we are. Here are some places within Florida, where you can access our world-class metal roofing services: –
Contact now!    
With so many benefits at hand, USA Metal Roof Contractors of Fort Lauderdale is the best choice you can make here in Fort Lauderdale. With the experience, our professionals have you're sure to get what you expect. So, call now!