Fort Lauderdale's
Top New Construction Metal Roofing
Are you seeking a metal roofing expert for a newly constructed building? Do you want a reliable roofing solution for your building? If so, this is the right place for you. Fort Lauderdale is growing every day. People are developing and following new trends.
Although you may still see many buildings with asphalt roofs, people are transitioning towards metal roofs faster than ever. However, it's because of some practical benefits metal roofs bring along. If you live in Fort Lauderdale, you can contact the USA Metal Roof Contractors of Fort Lauderdale. 
We're a famous metal roofing company serving people all over Florida. It's the experience and quality we deliver sets us apart from other metal roofers in town. Call now if you're ready for a great metal roofing experience.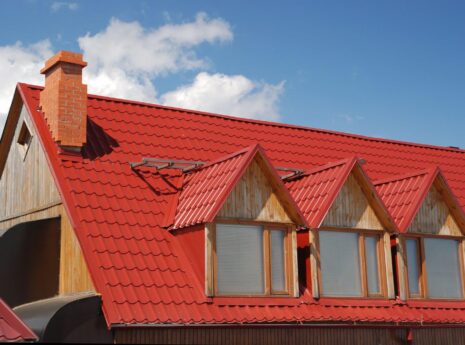 Roofing types for new Construction
Before you could install a new metal roof for your newly constructed building, you need to decide what exactly do you need. Otherwise, you may end up choosing something you do not require. There are various roofing types such as tapered panels, standing seam metal roofs, corrugated metal roofs, metal shingles, and a lot more.
If you're confused, you don't have to worry. Our professionals will help you decide the metal roofing type, which will suit your building the best. Here are some roofing types in detail: –
As the name suggests, this metal roofing variant makes use of tapered panels made of metal, which are connected to make a complete roofing system. This roofing system is comparatively light in weight and thus an affordable metal roofing solution. You can save somewhere around 26% percent of the money during installation. Therefore, it's an affordable as well as an effective metal roofing solution.
Similar to other metal roofing types, tapered panels also last for a long. But the best part is tapered panels are quite easy to install because they're lightweight.
Corrugated metal roofs have the name because of the corrugate pattern which the roofing systems possess. You can easily find various s and u-shaped patterns. Although metal roofs are already pretty strong, the unique pattern even multiplies the strength.
It's one of the best-suited metal roofing solutions for commercial buildings. It's easy to maintain and stays there for a long. You can choose a pattern which you like, and that goes with the style of your building.
Metal shingles are a good alternative to your good old asphalt shingles. In the case of asphalt shingles, the regular repairs and replacement after every 15 years is a hassle, and metal shingles never ask for such things. Although you have to take general care of your metal roof, the hassle and money spent here are a lot less. And, you're going to save decent money if you consider the long run. So, you can invest your money in this metal roofing type. Call now for free quotes and roof inspection.
Why are metal roofs so prevalent?
The best part about installing a metal roof on a newly constructed building is, you don't have to think about replacing it for at least forty years. And when you choose some other roofing material, you'll have to replace it multiple times.
And after that, you'll have to choose metal roofs. The smart move will be if you choose metal roofs in the first go. And by doing this, you'll not only save money, but you'll save yourself from the hassle of roof replacement.
Extra Durability: metal roofs are coated with several layers of paints and other substances. Moreover, the ridges and other corrugated patterns make metal roofs more durable than any other roofing alternative. You can expect metal roofs to resist corrosion and leakage too. Metal roofs do not crack or fade as easily as other roofing materials. Also, metal roofs are known to withstand strong winds of up to 140 mph. So, you can possibly expect everything from a metal roof.
Extensive Designs: People here in Fort Lauderdale are conscious about their class, and we appreciate that. It's the reason we offer so many metal roofing verities for you to choose from. You can choose from different designs, colors, patterns and select the one which suits them best.
Easy Maintenance & Long Life: Metal roofs are very easy to maintain. You need not pay as much attention as you would have to in the case of asphalt shingles, concrete tiles, etc. 
Also, metal roofs have an impressive life of even more than fifty years. So, you can leave the worry of unnecessary hassles involving replacements and repairs.
Choosing the best
The best part about choosing USA Metal Roof Contractors of Fort Lauderdale is you get superior services at affordable prices. Professionals from our company are trained and possess the right skills you need for perfect metal roofing results.
Here is why you should choose us: – 
Warranty: You'll get a warranty with the services you purchase from our company. This benefit is not available with every other metal roofer. Using this warranty, you can easily claim benefits if something unexpected happens. However, you need to take note of the terms and conditions. Please call our experts now to know more regarding the same.
Free Roof Inspection: Every other day, people call us and discuss their concerns about their roofs. Most of them are unsure about their roof's present condition. It's the reason we offer free roof inspection. It's the process where our professional examines the roof and looks for related issues. This is a foundational step towards making the right roofing decision and ensuring the roof's safety.
Free Quotes & Affordable Prices: With USA Metal Roof Contractors of Fort Lauderdale, you can access free quotes just by asking for the same. You can access all our services at prices which are both competitive and affordable.
We aim to help all the people here in Florida access the best metal roofing services at affordable prices. If you're ready for a notable metal roofing experience, please reach out to us now! 
Time to Replace Your Roof? We Can Help
---
Considering roofing replacement? When it comes to roofing projects, many homeowners rely on professionals to get the job done. At USA Metal Roof Contractors of Fort Lauderdale, our specialists stick to all the industry standards when installing metal roofing on both residential and commercial properties. Therefore, you can be sure of getting a sturdy roof on top of your house. As a result, you can get the best services from our company in the following fields;
What Locations do we Serve?
---
USA Metal Roof Contractors of Fort Lauderdale is a name you can trust and rely on. Our metal roofing services were limited in Fort Lauderdale, FL when we started. But with time our company has expanded and is now serving over ten locations within Florida.
It shows how reliable we are. Here are some places within Florida, where you can access our world-class metal roofing services: –
Contact now!    
With so many benefits at hand, USA Metal Roof Contractors of Fort Lauderdale is the best choice you can make here in Fort Lauderdale. With the experience, our professionals have you're sure to get what you expect. So, call now!