Fort Lauderdale's
Standing Seam Metal Roof Installation Team
People have used metal roofing for a very long time. Cooper roofs were used as a roof covering by the Romans, and alloyed metal roofs were used to cover European medieval architectures. But later, traditional shingled roofs started to take its place. Now, the time has come yet again where more and more metal roofs are seen everywhere, be it a residential structure or a commercial area. Metal roofs have become really popular.
This is all because people have started to understand the advantages of metal roofs and that they are better than the other type of roofs. A lot of different options are available for metal roofing. Some of the common metal used are steel, aluminum, copper, or zinc-coated steel. Metal roofing is a great option if you are looking for something that looks good but is also extremely durable. If you think metal roofing is not very flattering, you might be wrong. With the advancement of technology, the metal roofing industry has also advanced a lot.
Now, you can get a lot of designs, and There are a lot of color options for your roof that will give a great look to your house or property. If you are looking for a metal roofing company in Fort Lauderdale, you have come to the right place. We, USA Metal Roof Contractors of Fort Lauderdale, are one of the top-rated companies in this town. Our extensive choice of products makes us an ideal metal roofing company for you. We'll definitely not disappoint you. So, we're the ones you can trust.
According to us, a standing seam metal roof is one of the best and affordable metal roofing systems. Standing seam metal roof is a strong competitor of the clay or concrete tiled roofs. It is one of the best and common roof types we've installed in Florida. This type of roofing system has long panels that run vertically to the length of the roof.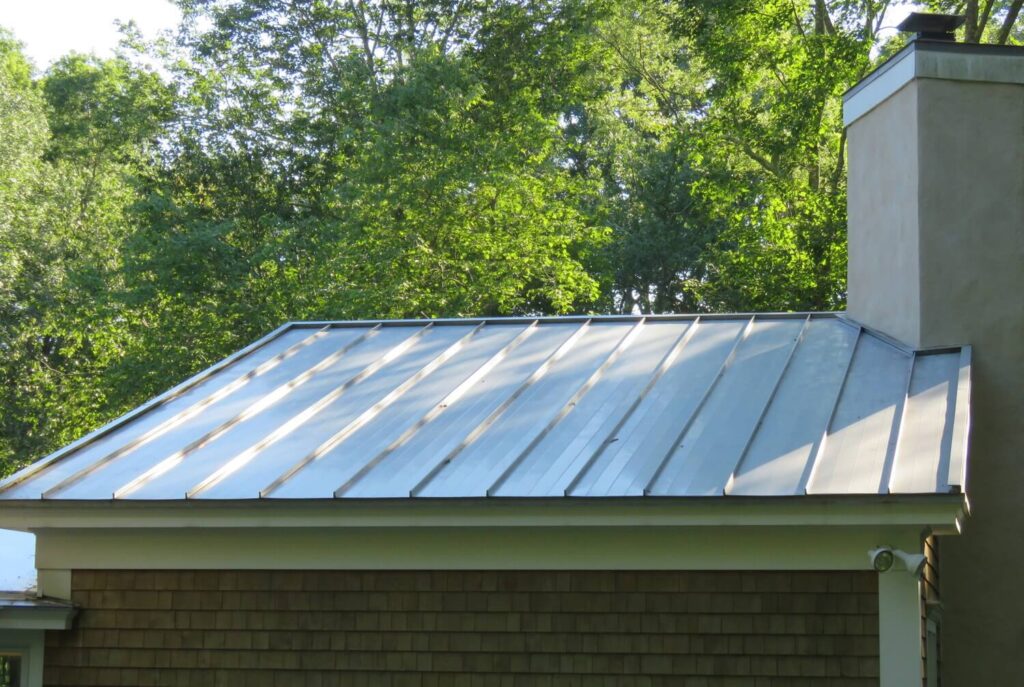 Metal Roofing Materials
Metal roofs are not just one product. It is a wide range of products and materials. Each one of them is meant for different areas and climate types. Let's discuss some of the common materials used:-
A good standing seam roof will have a lot of strength and would be highly durable. These roofs can be formed either at the factory or at the site of the installation itself. Standing seam metal roofs are of four different types.
Mechanically seamed
Symmetrically mechanically seamed
One-piece snap lock
Two-piece snap lock
Standing seam roof panels are held to the roof using by using concealed fasteners. Instead of nails, we make use of clippers or fastener flanges. The use of concealed fasteners doesn't cause any moisture to seep into the roof. That's because there will be no hole as there will be the use of nails. Standing seams provides supreme protection against these elements. The traditional roof, on the other hand, has a number of problems. These roofs have gaps in them, which give the moisture to enter into them.
Standing seam is available in large color options and also in different materials. It is highly versatile and can be created just according to your style and requirements. If you come to us, you would definitely find something that would match your needs and also your budget. Standing seam metal roofs are slightly costlier than the traditional roofs. But, because of its reliability, durability, and long-term benefits, people readily choose for these roofs. You'll definitely be complimented for your beautiful roofs. So do not waste time anymore and call us now.
We are the best!
The workmanship is very important than the service itself. We, USA Metal Roof Contractors of Fort Lauderdale, aim to provide good quality, weather-tight roofs that will provide complete protection to your property.
From inspection to repairs to replacement and installation of new roofs, we have all the services available for our customers. Here are some of the best services for our company: –
Stone-Coated Steel Roofing

Commercial Metal Roofing

Standing Seam Metal Roof

Tapered Panels Metal Roof
We have amazing work experience of over ten years in this field. You can expect extreme professionalism from our professionals. Our experts are highly qualified, trained, and skilled. For better insights, you can always contact us on our helpline.
We are extremely dedicated and focused on our work and assure you never to let you down. So, call now for a distinguished metal roofing experience.
Time to Replace Your Roof? We Can Help
---
Considering roofing replacement? When it comes to roofing projects, many homeowners rely on professionals to get the job done. At USA Metal Roof Contractors of Fort Lauderdale, our specialists stick to all the industry standards when installing metal roofing on both residential and commercial properties. Therefore, you can be sure of getting a sturdy roof on top of your house. As a result, you can get the best services from our company in the following fields;
What Locations do we Serve?
---
USA Metal Roof Contractors of Fort Lauderdale is a name you can trust and rely on. Our metal roofing services were limited in Fort Lauderdale, FL when we started. But with time our company has expanded and is now serving over ten locations within Florida.
It shows how reliable we are. Here are some places within Florida, where you can access our world-class metal roofing services: –
Contact now!    
With so many benefits at hand, USA Metal Roof Contractors of Fort Lauderdale is the best choice you can make here in Fort Lauderdale. With the experience, our professionals have you're sure to get what you expect. So, call now!