Best Re-roofing
(Retrofitting) Metal Roofs in Fort Lauderdale
Metal roofs have proved their versatility in the field. They are available in so many options, designs, and colors that everyone finds them easy to use and prefer them for their building. If you are new and looking for a perfect material to install on roofs, a metal roof is a profitable option.
It is not easy to install a metal roof. You need experts and skilled professionals. You have to first understand the concept behind metal roofing and have to work in a professional and managed way to the best results. The struggle of finding a good roofer is also quite intense.
USA Metal Roof Contractors of Fort Lauderdale in your town of Fort Lauderdale, Florida, have been working in the field of metal roofing for over a decade. Our work has been outshined and has been liked by all. Using correct techniques and precautions, you can build a long-lasting, trouble-free metal roof.
Re-roofing or retrofitting of metal roofs indicates the unique character of metal roofs that allow them to be constructed over existing metal roofs without causing any wear and tear. Our roofers have deep knowledge of metal roofing and all the various techniques to build.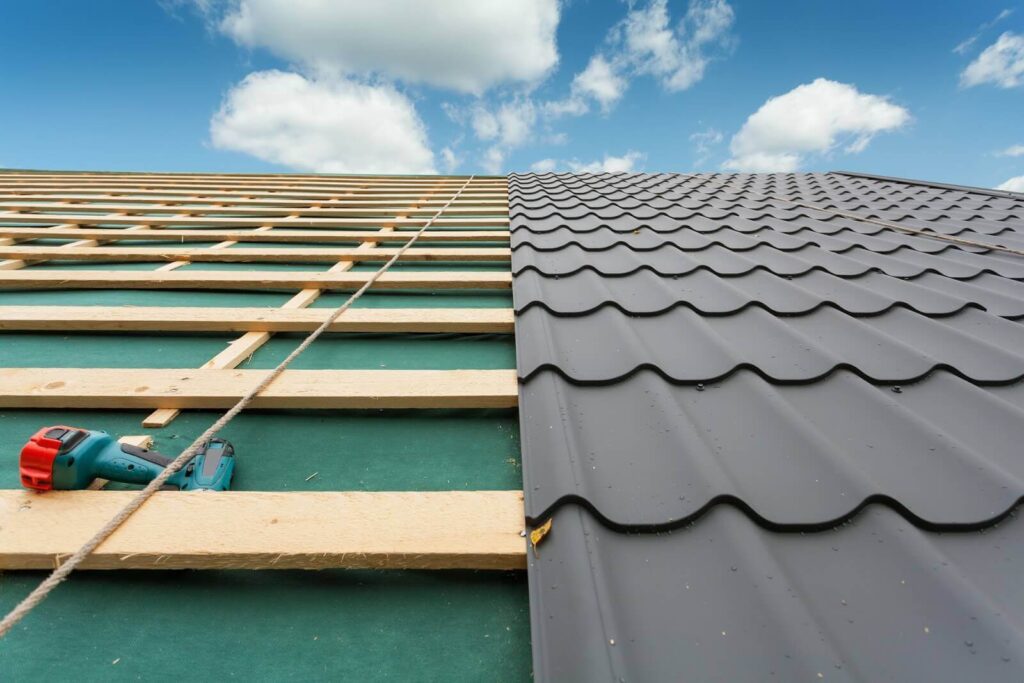 What benefits are offered by retrofitted metal roofs?
What is re-roofing or retrofitting of metal roofs?
Re-roofing or retrofitting of a metal roof is a process that involves installing a roof that is already designed by the manufacturer is placed on an already existing roof. In this way, the roof can be installed in a hassle-free manner as no wear and tear are involved.
It minimizes interruption to your operations. Retrofitted roofs are installed in a fast, easy, and quick manner. In a nutshell, it's capable of saving you time, delivering a reliable metal roofing solution.
If re-roofing or retrofitting seems the best option for your property, you should definitely contact USA Metal Roof Contractors of Fort Lauderdale. We hope to provide you the best quality materials.
Why should you choose USA Metal Roof Contractors of Fort Lauderdale for metal roofing?
If you are looking for metal roofers with a good amount of experience and passion, you will be doing the right thing by collaborating with us. We have made our customers feel proud and satisfied with the work quality and different types of designs.
Our uniqueness in designs makes people stop and stare at your building. We provide honest and genuine opinions about your roof and will always guide and suggest the best material for you. 
Our prices and deals are very affordable and reasonable. You will never feel that something is overpriced. Excellent workforce and skilled roofers are necessary for any kind of metal roof construction.
Fortunately, we have everything it needs. So do not waste another minute thinking! Call us right now and avail of the amazing deals and benefits we have for you. We also provide free roof inspection and give you a perfect roof analysis! So, call now!
Time to Replace Your Roof? We Can Help
---
Considering roofing replacement? When it comes to roofing projects, many homeowners rely on professionals to get the job done. At USA Metal Roof Contractors of Fort Lauderdale, our specialists stick to all the industry standards when installing metal roofing on both residential and commercial properties. Therefore, you can be sure of getting a sturdy roof on top of your house. As a result, you can get the best services from our company in the following fields;
What Locations do we Serve?
---
USA Metal Roof Contractors of Fort Lauderdale is a name you can trust and rely on. Our metal roofing services were limited in Fort Lauderdale, FL when we started. But with time our company has expanded and is now serving over ten locations within Florida.
It shows how reliable we are. Here are some places within Florida, where you can access our world-class metal roofing services: –
Contact now!    
With so many benefits at hand, USA Metal Roof Contractors of Fort Lauderdale is the best choice you can make here in Fort Lauderdale. With the experience, our professionals have you're sure to get what you expect. So, call now!