Fort Lauderdale's
#1 Residential Metal Roofing Contractors
Not everything you invest in brings a good return on investment. People spend thousands of dollars building their houses but usually forget the roof's most important part. It's not that people forget to build the roof. The fact is people choose the wrong material. Traditional roofing materials like concrete tiles, asphalt shingles, clay tiles have been used as roofing materials for many years. However, such roofing alternatives can be costly to install if you see the bigger picture or consider the long run.
If you live in Fort Lauderdale and want to invest in your roof, you must choose a metal roofing system. A metal roofing system is way more durable, reliable, long-living as compared to the traditional alternatives. You can contact the metal roofing pros at USA Metal Roof Contractors of Fort Lauderdale. We're a complete metal roofing company serving the people here in Fort Lauderdale with affordable metal roofing services.
Professionals from our company have helped thousands of people all over Florida install reliable metal roofing systems. If you want one for your house, please get in touch with our professionals.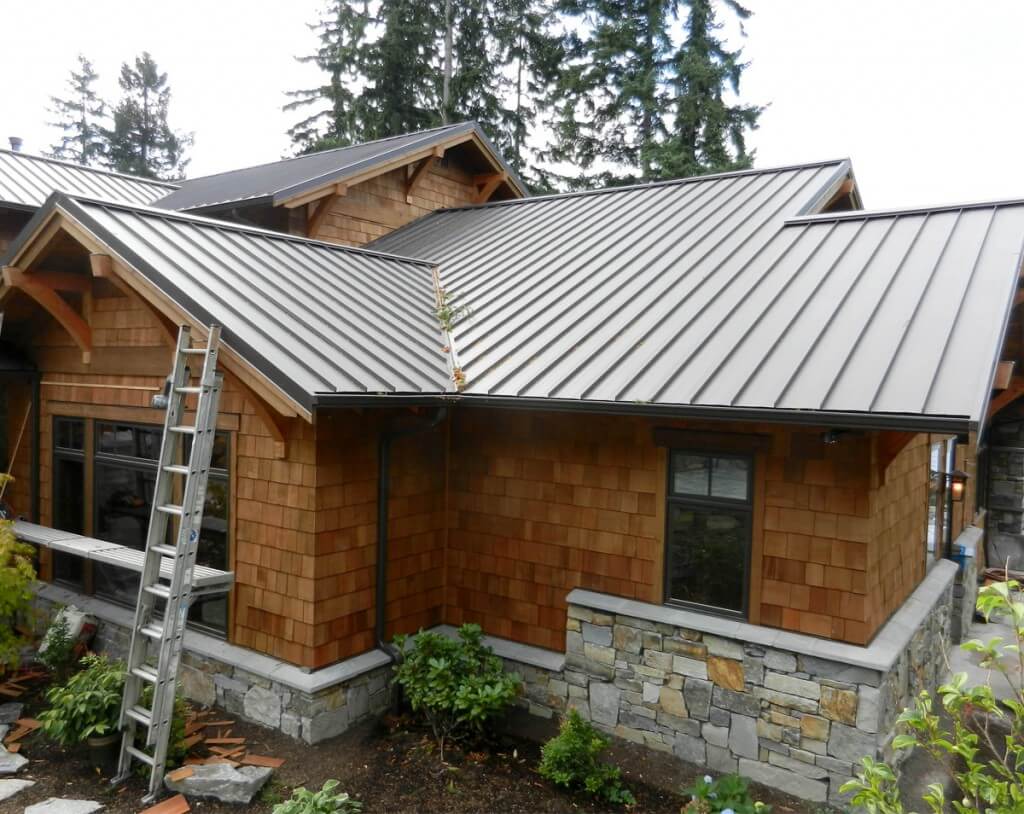 Some Residential Metal Roofing Types to choose from
Although most of the metal roofing types are suitable for residential purposes, you must still select carefully. It's because the style of the roof must match with your house or building. Otherwise, it won't look appealing. Here are some metal roofing types for your house:
Stone roofs never go out of style. However, you need to have something more durable too. It's the reason people opt for stone-coated steel roofing. It's best suited for the people who want a stone like an appearance with better durability. This variant involves a coating of the stone chip over the steel to give an exact stone-like appearance. As the steel is in the core, the durability is exponentially increased. Don't worry; the stone appearance won't wither out as the stone chips are embedded permanently.
Moreover, this roofing material has a life span of over fifty years, with some common repairs required. You don't have to replace the roof every fifteen or twenty years as it's the case with common roofing materials. This way, you can save some decent money in the long run.
Benefits of Stone-coated Steel Roofing   
 

Easy to install

Low maintenance required
Affordable in the long run
Beautiful to look at
Increases the aesthetic appeall
Used earlier only for commercial applications, standing seam metal roofs make a decent metal roofing alternative. It involves vertical legs and has spaces in between. This roofing type is easy to install and is known to protect for more than fifty years. The vertical design is pretty helpful in getting rid of snow and water during rains. So, you need not worry about corrosion or leakage during the rainy season. And the reason why this roofing system is suited for residential purposes is its concealed fasteners.
The concealed fasteners are known to deliver a smooth finish that looks appealing to the viewer. You can opt for this roofing system if you want a beautiful finish for your house.
Benefits of Standing Seam Metal Roof: -
Attractive Design
Distinct Vertical Pattern
Cost-Effective
Easy to maintain
Sheds water easily
If you're someone who loves asphalt roofs but is tired from regular repairs and replacements, this the best place for you. Although asphalt shingle roofs are quite beautiful, you still have to spend a lot of money on repairs from year to year.
It's the reason why asphalt shingles are not preferred on a long-term basis. But we have something even better. Metal shingles exactly look like asphalt shingles but are stronger when compared. Metal shingles come with a lifespan of more than forty years, so you don't have to replace your roof during use. This is where you're going to save money in the long run. Also, metal shingles are known to withstand winds of up to 135mph and easily bear heavy rains. This is an investment worth making. You can also re-roof your building using metal shingles because of its lightweight nature.
Here are some benefits of metal shingle roofs: -
Light Weight
Easy Installation
Affordable
Very less to no maintenance
Long life of more than forty-year
Why choose USA Metal Roof Contractors of Fort Lauderdale?
Having an expert by your side is essential, especially when hiring someone for a metal roofing project. It's because metal roofing is a skill that requires industry experience and exposure. If you hire anyone down the street, you may end up wasting your money. You can choose the USA Metal Roof Contractors of Fort Lauderdale, like other smart people here to do. Here are some benefits of choosing an expert like us: –
You'll get Expert Supervision: Some decisions are quite complex to take, especially on the runtime. It's when expert advice plays its part. For example, if your roof is damaged and you are unable to decide whether you need a replacement or repairs. In this case, our professional will guide you with the best possible solution. If minor repairs can suffice and add some more years to your roof, you can do that; otherwise, you can lean towards a metal roof replacement.
You can Save Money: When you thought of installing a metal roofing system, you took your first step towards saving good money. And, when you will avail of services from our company, you'll know how competitive prices our services are. This way, you can save money from both sides. Our aim is not only to make money but to help you enjoy the best metal roofing services at prices that don't burden your pocket.
You can enjoy Free Quotes & Roof Inspection: You can easily ask for free quotes for the services you want to purchase. Moreover, we offer free roof inspection to help you be sure of your roof's safety without spending any money.
The list of benefits is never-ending. If you like the above benefit and want to enjoy the same, please get in touch!
Time to Replace Your Roof? We Can Help
---
Considering roofing replacement? When it comes to roofing projects, many homeowners rely on professionals to get the job done. At USA Metal Roof Contractors of Fort Lauderdale, our specialists stick to all the industry standards when installing metal roofing on both residential and commercial properties. Therefore, you can be sure of getting a sturdy roof on top of your house. As a result, you can get the best services from our company in the following fields;
What Locations do we Serve?
---
USA Metal Roof Contractors of Fort Lauderdale is a name you can trust and rely on. Our metal roofing services were limited in Fort Lauderdale, FL when we started. But with time our company has expanded and is now serving over ten locations within Florida.
It shows how reliable we are. Here are some places within Florida, where you can access our world-class metal roofing services: –
Contact now!    
With so many benefits at hand, USA Metal Roof Contractors of Fort Lauderdale is the best choice you can make here in Fort Lauderdale. With the experience, our professionals have you're sure to get what you expect. So, call now!